Spring is in the air! March is a great month for so many reasons- the weather is warming up but not too hot, gardens are being planted, and birds fill the trees. It's a time of renewal and refreshing, not only in the home but also on the palate.
Many wine drinkers have a go-to varietal, one they know they can rely on no matter what year-round. However, with the annual refresh that comes in March, many of us feel pulled to try something new. We want to refresh our wines, just as we're refreshing our homes and gardens. Here are three wines to try when you've got a touch of spring fever.
Antonutti Vini Pinot Grigio Ramato
Like Pinot Grigio but wish it had a little more oomph? Welcome to ramato. Most Pinot Grigio is made like other white wines, where the grapes are crushed and the juice is immediately separated from the skin. This prevents the skins from imparting flavor and color to the juice. With ramato, the grapes are crushed but not pressed immediately, allowing the juice and the skins to spend time together. This gives a copper tinge to the wine and imparts more body and additional flavor.
Our Antonutti Vini Pinot Grigio Ramato is a great wine for spring with its medium body and notes of pear, citrus, and minerals. It pairs well with many springtime foods, like salads, herbed chicken, and light pasta dishes.
 
Rosé
With the days getting longer and the weather warming, odds are that you're starting to think about rosé more and more. Who can blame you? It has a little more weight and texture than most white wines, but it's light enough to be refreshing. Our newest rosé, the Domaine de La Rosiere Rosé, is made from 100% Gamay grapes, the same ones used in Beaujolais. It is crisp and refreshing with lovely mineral notes balancing the red currant and wild strawberry.
One of the many great things about rosé is that it pairs well with a wide variety of food, so feel free to break it out whether you're enjoying crudité or BBQ.

Bonfante & Chiarle Barbera D'Asti Gessara
Barbera is one of the most widely planted grapes in Italy, often considered an everyday wine, with the more famous Barolo saved for special occasions. It is an ideal wine for spring, because it's both light and rich at the same time, with high acidity, juicy fruit, and robust tannins.
Barbera, like many Italian wines, loves food. Steak, truffles, stew, pasta, and dishes with lots of herbs all work well with this wine. Our charcuterie boards with their many different flavors are delicious with this wine.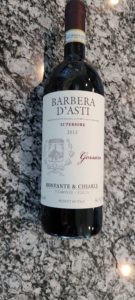 Whether you prefer light and zesty wines or more robust stunners, there is always a new varietal to try. The world of wine is an exciting place to explore, so don't be afraid to step off the beaten path and try something new when the mood strikes!