The wine list is a focal piece for any wine bar and The Classy Cork is no exception. We work tirelessly to ensure that our wine list has a wide selection of high quality wines at great prices. Our wine list currently includes over 70 wines from Italy, Spain, the U.S., France, Chile, Kosovo, Portugal, South Africa, and Argentina. We carry all of the major varietals, like Cabernet Sauvignon, Pinot Noir, Chardonnay, and Sauvignon Blanc, as well as less common
With so many options, it can be a bit overwhelming the first time you visit the bar, and it's easy to miss something new when you've been in a few times. To help prepare you for your next visit, we've put together answers to some of the most common questions we receive about the wine list.

How was the wine list put together?
That's a question we receive multiple times every week at The Classy Cork. The short answer is that the initial wine list was put together through a combination of vendor recommendations and owner preferences. In reality, that process took quite a few months, dozens of tastings, discussions, and tough decisions about which wines to carry. Angela and Alicia wanted to ensure that the wines we carry are high quality, great value, and offered an option for every palate. We also make an effort to carry wines from smaller producers that you may not have experienced before.
Does the wine list change?
Yes. The wine list can change for a number of reasons.
Sometimes we remove wines from the list. A wine may be limited in stock and we're unable to get it anymore or the winery changes to a producer that doesn't operate in the area. We may let a wine run out if it's not well-liked by our customers. A wine might increase in price to the point that we don't feel it's a good value any longer. Anytime one of these situations occurs we do our best to ensure that a comparable wine is available as an alternative for those who loved the wine. If this ever happens to one of your favorites, make sure to check with a staff member about a good alternative. We love helping you find new favorites.
We're also constantly searching out new wines that will delight your taste buds, so new wines are added to the list periodically.
Are your wines by the bottle or by the glass?
All of our wines are available by the bottle and we offer a large variety of wines by the glass as well. We make every effort to have at least one of each varietal available by the glass and change these periodically to allow you to try new things before committing to the bottle.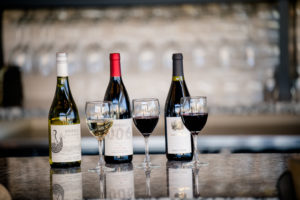 Do you offer flights?
Yes! We currently offer 3 wine flights designed to introduce you to new wines and please a wide range of palates. These flights change periodically to let you regularly get a taste for new wines.
Do you take suggestions?
Yes! We want you to feel like part of The Classy Cork family. If there's a varietal or flavor profile you think would make a great addition to the list, let us know! We can't guarantee that we'll be able to add it to the list, but we definitely take customer feedback into consideration as the wine list continues to evolve.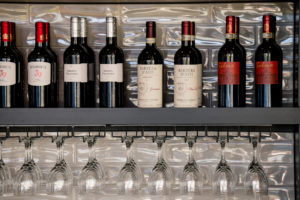 Our focus at The Classy Cork is all about you and your wine experience. We are here to help you have the best time possible at the bar, whether you're looking for a beloved and familiar flavor profile or want to try something new and exciting. Anytime you have questions about the wine list, don't hesitate to ask!